Camino portugues from tui in 7,6,5,4 Stages
✅ 
The Camino Portugues  from Tui in 7 stages is an increasingly popular option among hiking enthusiasts, and you may ask, why is it worth choosing this route and not another of the Camino de Santiago?
Because it is a route that adapts very well to beginners who want to do the Camino de Santiago, by doing the route in 7 stages, the last day you can enjoy more of the city of Santiago de Compostela. From O Milladoiro it is only 7 km to Santiago. However,If you are an experienced hiker you can try and do the camino from Tui in 6,5 or 4 stages.
During this experience you will walk from Tui through Pontevedra until you reach your final destination, Santiago de Compostela.
Along the way, you will find two of the most important estuaries of Galicia, such as the Ría of Vigo and the Ría of Pontevedra or beautiful villages such as Caldas de Reis or Padrón. 
We know you want to enjoy the route to the fullest, so we will organise everything for you. What do you say? are you up for it?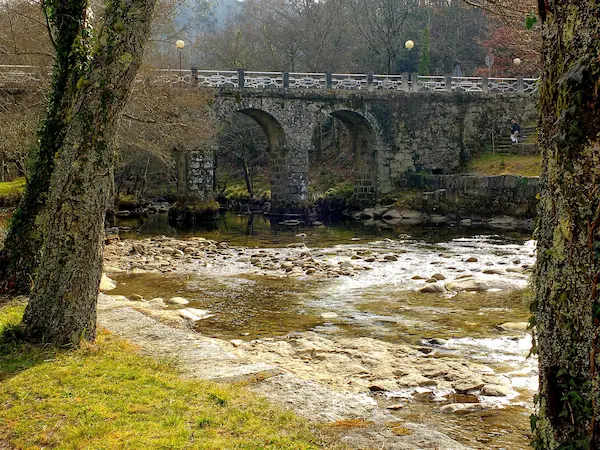 🛌 8 Nights
🥾 7 Stages
🍂 120 KM (74,5 Miles)
Accomodation.

Luggage transfers.

Paperwork.

Travel insurance.

 24/7 support number.

(Emergencies)
Day 1: Tui
Your experience begins with a visit to one of the most historic towns in Galicia.
Tui stands out for its old town with its Jewish past and its Gothic Cathedral.
In addition, Tui has a natural environment of great beauty thanks to the fact that the Miño river flows through the town, separating and joining Galicia with Portugal.
On the other side of the river, a town with a lot of history and tradition awaits you, Valença and its magnificent fortress.
Day 2: Tui - O Porriño (8,2 mi)
This first stage is a stage to enjoy, leaving Tui, you will go along the river, walking until we enter an area of lush forest that belongs to the Red Natura 2000 (Gándaras de Budiño).
You will follow this gentle walk through the forest until you reach O Porriño.
After a short rest, you will be able to get to know the historic centre of Porriño and its lively streets.
Day 3: O Porriño - Redondela (9,6 mi)
The next day, you will leave Porriño behind to enter fully into one of the most spectacular estuaries of Galicia, the Vigo estuary.
You will start ascending through the Louriña Valley towards Mos, and as you walk, you will come across different balconies where you can enjoy wonderful views of the Vigo estuary.
After the ascent, you will descend towards Redondela to finish the stage.
After a well-deserved rest, you can visit the old town of Redondela and taste one of the delicacies of the area, the Arcade oysters.
Day 4: Redondela - Pontevedra (12,17 mi)
In this fourth stage, you will leave Redondela towards the Roman bridge of Pontesampaio, a bridge with a fascinating history, as this is the site of a key battle during the War of Independence against Napoleon. The locals managed to defeat the French army and expel the Napoleonic troops. 
After several kilometres of walking through different villages you will reach the final point of the stage, the city of Pontevedra.
Pontevedra is a historic city with a beautiful old town. If you stroll through its narrow streets you will immediately become aware of both its cultural heritage and its lively life. 
Day 5: Pontevedra - Caldas de Reis (13,2 mi)
In this stage you will leave Pontevedra by the bridge of O Burgo until you reach the marshes of Alba, this protected wetland delights people who enjoy birdwatching.
Passing these marshes you will enter the forest towards the area of Barro, just when you reach Briallos there is a detour to reach the waterfalls of the river Barosa, we recommend that you visit them.
On the way back from Barosa, you will continue along a pleasant path full of vineyards and typical Galician houses until you reach Caldas de Reís.
Caldas de Reís is famous for its thermal waters and its spa, if you feel like recovering, don't hesitate, take a bath and you'll be as good as new.
Day 6: Caldas de Reis - Padrón (11,5 mi)
After sleeping in Caldas de Reís, you will start the stage by entering the forest that belongs to the Bermaña valley, a path of great beauty that will lead you to Pontecesures and its Roman bridge.
The Roman bridge of Pontecesures separates the province of Pontevedra from the province of La Coruña across the river Ulla.
About 3 kilometres later you will reach the end of the stage, Padrón.
Padrón is famous for Rosalía de Castro, Camilo José Cela and of course for its peppers.
Day 7: Padrón - O Milladoiro (10,9 mi)
In this penultimate stage, we leave Padrón towards Iria Flavia and A Escravitude.
In Iria Flavia you can visit its beautiful collegiate church and in A Escravitude you can visit its beautiful sanctuary dedicated to the virgin of slavery.
Leaving these towns behind you will enter the municipalities of Teo and Ames to finish the stage in O Milladoiro.
O Milladoiro is a town that has been closely linked to the Camino de Santiago since time immemorial, although nowadays it is more of a dormitory town, as it is very close to Santiago.
Day 8: O Milladoiro - Santiago de Compostela (4,7 mi)
In this last stage, you will leave O Milladoiro along the travesía do Porto towards a wooded area, a little further on you will be able to see the majestic Cathedral of Santiago on your right.
After contemplating this beautiful view, you will descend until you reach the urban area of Santiago, where the river Sar flows by.
There is very little left to reach your goal, you just have to go up a little bit until you reach the Alameda Park, from there crossing the narrow streets of the old town of Santiago you will find the famous Plaza del Obradoiro.
Congratulations, you have reached your goal!
Extra charge for single room.
Breakfast.
Dinner
Transfers (airport, start point)
Camino Portugues from tui to santiago de compostela in 6 stages
Doing the Camino Portugues from Tui to Santiago de Compostela in 6 stages is, as well, a really good option for beginners. This option along with the Camino from Sarria in 6 stages, are the preferred options for people who do the Camino for the first time.
Doing the Portuguese Way from Tui in 6 stages, allows you to enjoy more of nature and human contacts that you can generate during your way. In our opinion, doing it in 6 or 7 stages are the best option because we are big fans of slow tourism, a tourism without rushing and without stress, just you and your mind to enjoy to the fullest.
You decide! ask us for a quote in the form above and choose how many stages you want to make your way (4, 5 or 6 stages).
Don't worry, we will organize everything for you!
Stage 1: Tui a Porriño (8,2 mi)
Stage 2: Porriño a Redondela (9,6 mi)
Stage 3: Redondela a Pontevedra (12,17 mi)
Stage 4: Pontevedra a Caldas de Reis (13,2 mi)
Stage 5: Caldas de Reis a Padrón (11,5 mi)
Stage 6: Padrón a Santiago (15,6 mi)
Camino Portugues from tui to santiago de compostela in 5 stages
How far is Santiago from Tui?
The distance between Tui and Santiago is around 72 miles.
How difficult is the portuguese Camino?
The camino from Tui to Santiago is very easy and adapted to beginners.
What is the best month to walk the Camino Portugues from Tui?
April, May, June, September and October, are the most suitable months to do the camino from Tui to Santiago.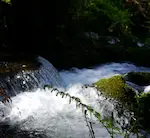 Variante Espiritual Camino Portugues